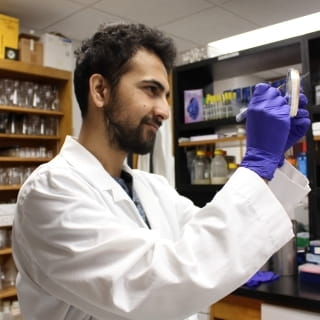 Hi, I'm
Anuj Sharma

.
I'm a plant pathologist.
Currently, I am a PhD student at University of Florida. I work on Jones lab in plant pathology department. My research encompasses in-silico mapping of resistance genes in pepper/bacterial spot pathosystem as well as function validation in the lab. In addition, I do epidemiological modeling of pathogen spread.
2021 (expected)

PhD in Plant pathology
University of Florida, Department of Plant Pathology
2016

BS in Agriculture
Tribhuvan University, Institute of Agriculture and Animal Science
2016-2021

PhD Fellowship
Graduate Student Funding Award, University of Florida
2013-2016

Merit scholarship
Institute of Agriculture and Animal Science / Tribhuvan University
Molecular
CRISPR/Cas9

VIGS

qPCR

HRM curve analysis

Bacteriology lab techniques

Topo-cloning
Bioinformatics
GBS

WGS

GATK

Samtools

Tophat

Cufflinks

Spades

BWA
Programming
Shell

Powershell

R

Javascript

HTML/CSS

Python

ggplot

dplyr
Softwares
Office

Photoshop

ArcGIS

Fusion360

Brackets

Geneious

Github
2017-Present

Graduate Research Assistant
University of Florida, Department of Plant Pathology
Modeling the role avrBsT in spread of Xanthomonas perforans.
Epidemiological modeling and predictive modeling

Fine mapping and functional validation of bs6 gene in pepper.
CRISPR knockouts, gene silencing and bioinformatics

Mapping of novel resistance gene against X. gardneri in pepper.
BSA/GBS, bioinformatics and validation

avrXv3 is a negative fitness factor in X. perforans.
Pathogen population studies and phenotypic characterization
2016-2017

Research Intern
Nepal Agriculture Research Council
CVT trials of several vegetables.
Multi location experimental design and data analysis

Evaluation of coffee varieties for resistance to coffee rust.
Data collection and analysis.

Hybrid seed production for late blight resistance in tomato.
Crossing breeding lines and evaluation for resistance
2014-2016

Undergrad Research Assistant
Tribhuvan University, Department of Plant Pathology
Screening for resistance for blast in finger millet accessions.
Experiment design, field trial and data analysis for tomato, potato, garlic, pepper, ginger, taro and BLM.

Disease diagnosis for plant clinic.
Pathogen identification and recommendation to farmers.
2018-Present

Member
American Phytopathological Society
2018-Present

Member
APS Graduate student arts subcommittee
2014-2016

Founding member
Agri-Youth Nepal
Effector-mediated pathogen dispersal modeling
We developed a model to describe and predict the movement and distribution of Xanthomonas perforans in field condition in relation to absence or presence of an type-3 effector gene 'avrBst'. Field data included the presence or absence of WT or mutant strains at different distances and time-points after co-inoculation of WT and mutant strains in equal concentration into central plant of a linear row. We found that presence of 'avrBst' gene provides fitness to X. perforans in terms of spread and we also developed model to predict this spread.
Resistance gene functional validation
Using GBS and marker-assisted selection, the position of bs6 resistance gene has been demarcated to a 473 kb region in chromosome 6 of pepper. We found several predicted genes in that region. We designed primers and amplified part of the predicted genes to verify their expression. So far 6 genes have been proved to express, out of which 5 are polymorphic. Next step is to check the difference in expression level of the genes to identify the candidates. Once more candidate list is completed, we will use CRISPR-Cas9 to knockout the candidate genes to determine identity of bs6 gene.
Resistance gene mapping
We found resistance to Xanthomonas gardneri in a Hungarian pepper line 'H1'. We crossed 'H1' with '50R' to produce F1 lines, which were selfed to produce F2 generation. The F2 bulks were sequenced and used custom genomic pipeline to determine the location of the gene. According to our analysis, this resistance gene is located within first 6 Mb region of chromosome 11 of pepper. We genotyped further BS1-F2 generation using HRM curve and CAPS marker and narrowed down the location of gene to a 3.5 Mb region.
Coffee rust management strategy
As a part of multi-season multi-location survey, we screened 23 coffee varieties in HRS orchard and farmer's field for incidence and severity of coffee leaf rust. We scored the severity in 0-4 scale and calculated the mean. Three varieties 'Catimor', 'Ketisic' and 'San Roman' performed best against coffee rust in both HRS orchard and farmer's field. Shading was an important factor for rust control. Increased spacing and removal of crop debris significantly decreased incidence of disease. Triadimefon was effective in controlling the disease whereas the effect of application of Verticillium lecanii was not consistent.
Breeding tomato for late blight tolerance
We developed various hybrid lines of tomato from NARC HRD breeding lines for tolerance to late blight. Among the breeding lines were 'HRD-1', which is resistant of bacterial wilt and 'HRD-7' and 'HRD-20' which showed tolerance to late blight. Tolerance was evaluated against commercial variety 'Shrijana'. The breeding lines were grown in greenhouse and female parents were emasculated. The pollination was done manually and the seeds were evaluated in field. Three hybrids (HRA-14 X HRD-7, HRA-20 X HRD-1, HRA-20 X HRD-2) showed high tolerance to late blight and were recommended for multi-location CVT.
Finger millet blast resistance trial
We screened 50 wild accessions of finger millet collected by National Agriculture Genetic Resources Center or resistance against blast cause by Magnaporthe grisea. After 10 WPI, we scored 10 plants for each accession from each of 3 replication for 4 times at 6 days interval. We calculated AUDPC and used DMRT to test for significance. The accessions were clustered into 3 groups with one group showing moderate resistance and rest were susceptible. Disease severity increased up to 34 DAS, then decreased. Dry shoot weight was negatively correlated to mean AUDPC whereas root/shoot ratio was positively correlated.
2017
Bhatta, A., Sharma, A., et al. 2017. Resistant and susceptible response of finger millet to seedling blast (Pyricularia grisea SACC.). The International Journal of Information Research and Review. 4(12):4804-4809.
Dr. Jeffrey B. Jones
Distinguished professor, Department of Plant Pathology, University of Florida
2550 Hull Rd, Rm 2553 Fifield Hall, Gainesville, FL 32611
Dr. Samuel F. Hutton
Associate professor, Department of Horticultural Sciences, University of Florida
14625 CR 672, Rm 171 GCREC, Wimauma, FL 33598
Dr. Gary E. Vallad
Associate professor, Department of Plant Pathology, University of Florida
14625 CR 672, Rm 126 GCREC, Wimauma, FL 33598
Dr. Erica M. Goss
Assistant professor, Department of Plant Pathology, University of Florida
2550 Hull Rd, Rm 2415 Fifield Hall, Gainesville, FL 32611